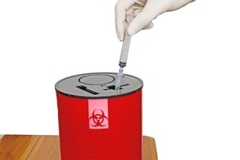 A growing number of people must use needles and syringes to treat various medical conditions. They may be used at home or in public places. Sharps cannot be thrown away in a community garbage bin. Sanitation workers who collect the garbage can have serious injuries if they come in contact with this type of discarded medical waste. Members of the general public, including children, can also be exposed. Discover ways to properly dispose of sharps and similar medical waste.
Needles and Other Sharps (Safe Disposal Outside of Health Care Settings)
The Food and Drug Administration gives tips for safely disposing of needles and other sharp devices that are used in public settings, other than healthcare.
The Medical Waste Management Act [PDF]
This California law required, effective September 1, 2008, that needles and sharps used at home be transported only in approved containers and managed at state-approved facilities.
Environmental Protection Agency's Medical Waste Website
For regulations regarding medical waste disposal.
Earth 911
To find a needle disposal program near you, enter "medical sharps" in the "Find recycling centers for" box and your Zip code in the "Near" box on this website.
North American Syringe Exchange Network
This organization supports unrestricted access to the tools and information needle-user populations need to make healthy choices.
LB Medwaste customers have access to a variety of sized containers and liners to best fit their disposal needs. LB Medwaste's safe and secure sharps disposal plan will keep your work environment safe. Call us today at 888-526-3392 for a quote.